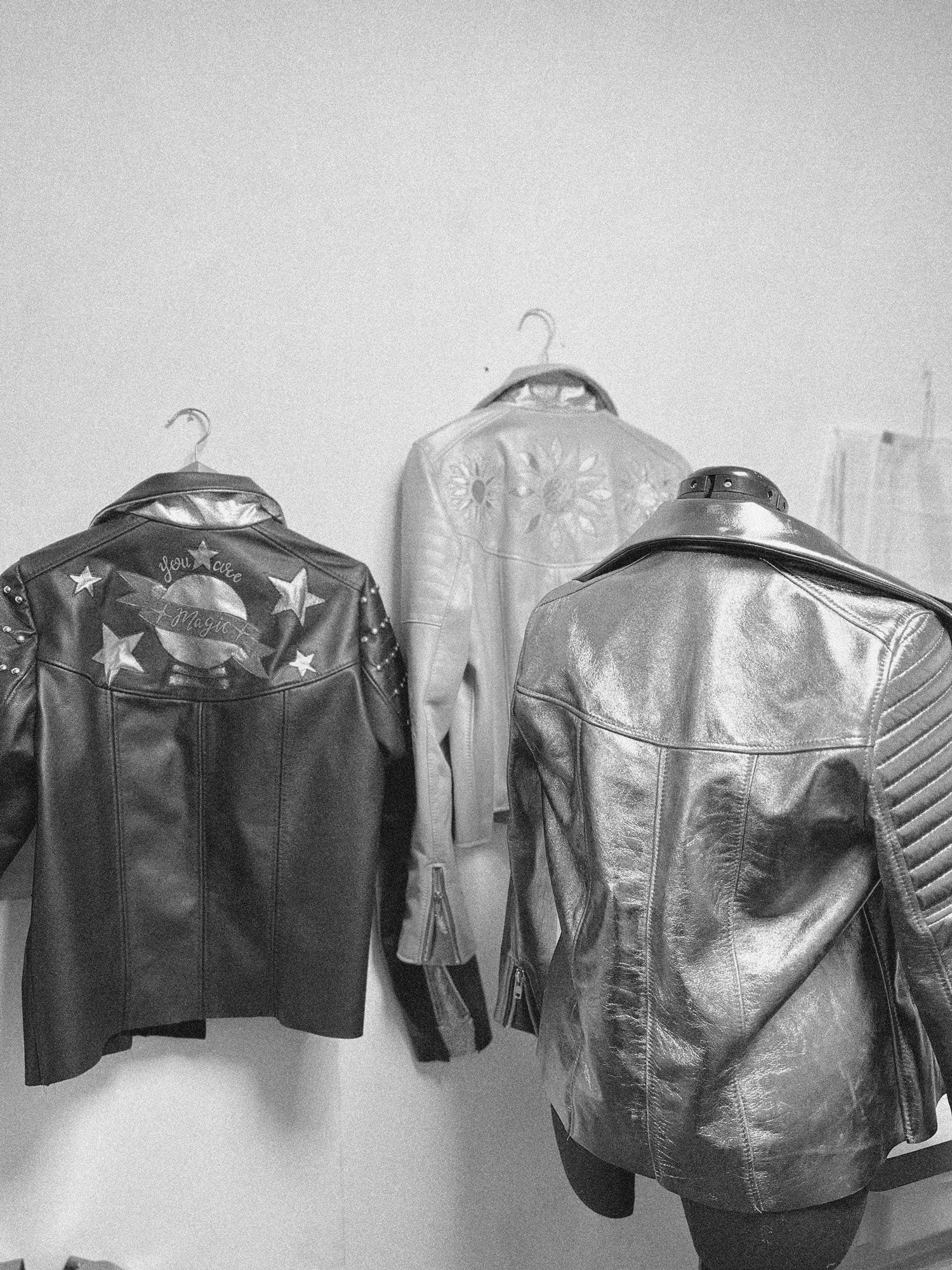 Custom Leather Service
Through my custom service, you get to work with me one-to-one in-depth on a unique leather piece that answers all of your needs from fit to detailing.

Not only do you become part of the design process and see the process come together, but you will receive a luxury wardrobe staple that individually captures your personality. It will become the most cherished piece you can wear and adore for years.

My custom-made jackets are here to effortlessly enhance your wardrobe and bring out the badass Luxe Rebel in you.

THE CUSTOM JOURNEY
WHAT'S THE BADASS FEELING? 
An everyday luxe leather that expresses your personality
Effortlessly enhance your wardrobe
Handmade to your measurements
Your ideas and my skills in communicating throughout the whole process 
High quality ethically sourced leather
A wearable piece of art that you can pass down through generations 
My badass enthusiasm, passion and skill for creating it for you.
My knowledge of 19 years of sewing and experience 
A pattern cut to your design 
My full attention to every detail 
A guarantee that you will become a Luxe Rebel 
HOW IT WORKS
Jackets will be made from my blocks to your measurements and can be personalised to suit whatever design you have in mind. 
We start by discussing via email or zoom your design ideas, fabric colours, sizing, and FAQs for me to get a feel for how to bring your personality into the jacket with my design knowledge. 
A follow-up email on all info discussed.
I then take your design idea into digital form so you get an idea of what it will look like
Leather samples are sent to you to choose colours and the type of leather you would like.
A sample jacket will be sent to you, followed by a zoom call for me to check the fit.
Email updates on the process of your jacket 
PDF printout on how to care for your jacket 
My custom service takes up to 8 to 12 weeks. 
LUXURY INVESTMENT 
Now you're probably thinking, this all sounds incredible, but what's the dollar involved? It's hard to determine a set price straight away because every handmade custom piece is so different but, as a guide
Custom plain jacket- from £999 
Custom jacket with design details - from £1200 
Clothing from 299
 (£150 deposit is required to book your spot, payment plans are available for the rest of the cost) 
I guarantee that when you wear a piece of LRLC, you will feel like your own BADASS icon. 
Are you ready to invest today? My custom service is by appointment only so book in today
"Bridie is a lady with exceptional talent!
When I went to see Bridie about designing my ideal jacket, it was incredible how many options and choices there were. Bridie also took note of all my initial thoughts.
When I received the final jacket, I couldn't believe how brilliant it looked and felt! It was so comfortable and looked exactly how I'd imagined"
Louisa (custom leather service)
"Thanks so much for my beautiful jacket - it looks absolutely stunning and the whole process was just such an amazing experience!
Getting something that fits to my curves and details that I have a special connection with is just such a unique feeling that I would recommend to anyone"
Antoinette (custom leather service)
I loved working with Bridie to come up with the jacket of my dreams! she was so wonderful and kind, I felt so comfortable telling her all my wants (the style of a star wars villain) and needs (blue!) so she could make me this piece.
I'll have this forever... it was worth every penny!
Ruth (custom leather service)
"If you are wanting a custom leather jacket, then you definitely need to book in with Luxe Rebel Leather Co.
The service that I received from my first enquiry, right through to receiving my jacket, was just exceptional.
My jacket is perfect and totally my personality. Thank you!"
Andrea (custom leather service)
"Bridie repaired and re-lined an old favourite leather jacket of mine not so long ago. Her work is PERFECT, Bridie's attention to detail is unbelievable. The quality of the lining was top notch, better than the original! A wonderful experience from beginning to end. Thank you"
Fallon (Reworked leather service)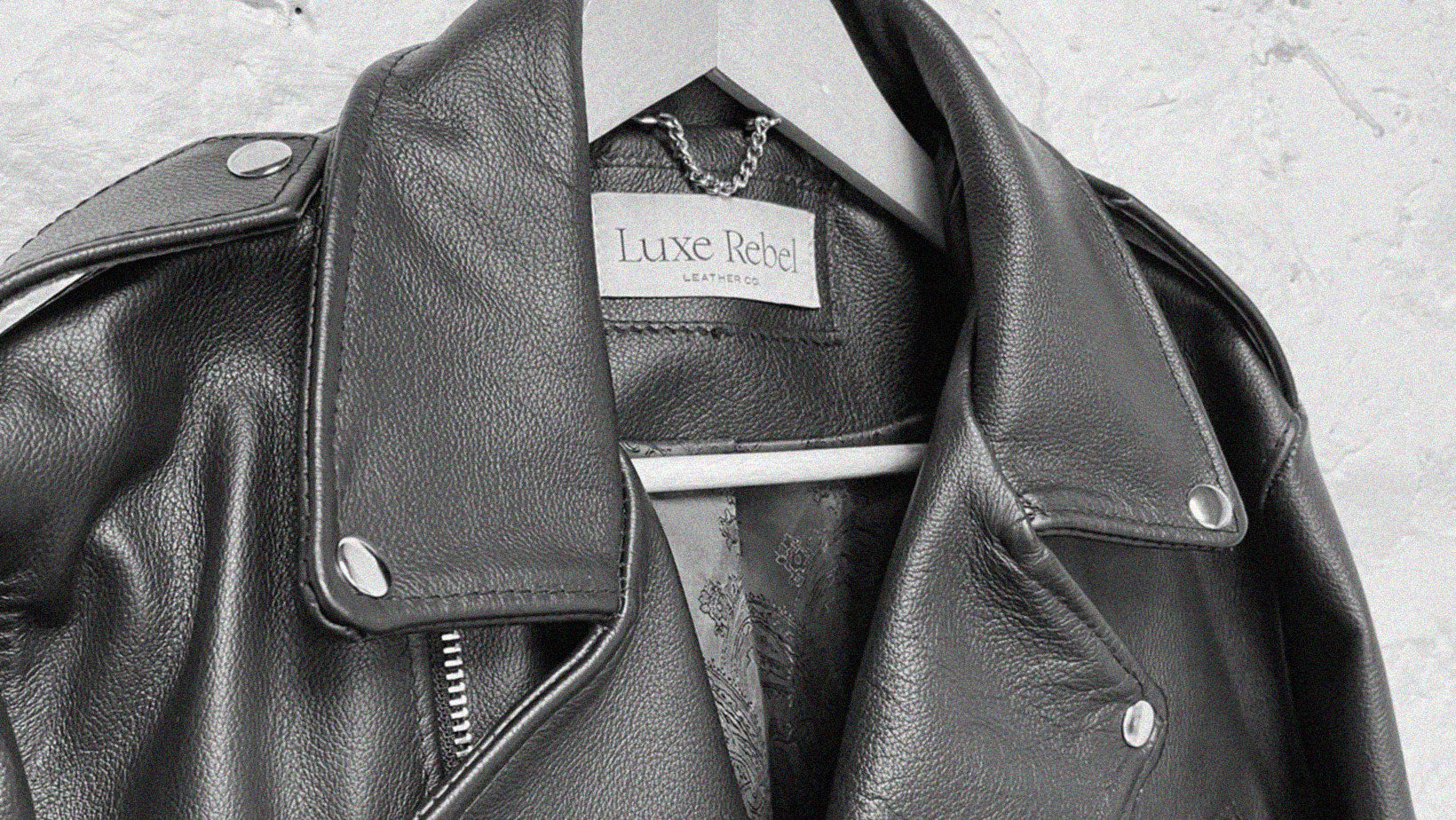 Reworked Leather Service
I know that feeling you have that one leather piece that, let's face it, has seen better days or maybe it might just need a little TLC. 
My badass reworked leather service comes in to save the day.
With a bit of care and attention, I can give it a new lease of life, be it by fixing holes, adding a new lining or completely reworking it to something else. 
Adding a new lease of life to an old garment is sustainably better for the environment so instead of throwing the garment away, you get to rock out in your new piece of reworked leather.
Looking to rework your leather, Enquire now

CONTACT ME
Enquire about a custom piece that individually captures your personality.